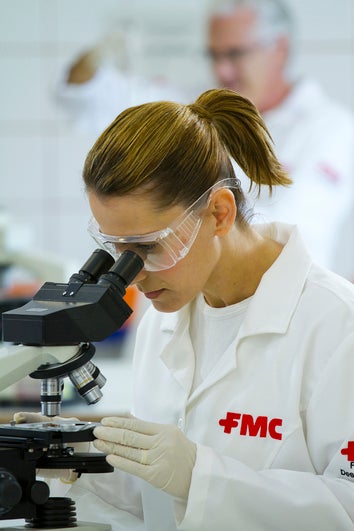 FMC Corporation announced today the winners of the 2021 FMC New Investigator Awards. The awards highlight outstanding early career professors in disciplines aligned with FMC science and include an unrestricted two-year research grant of $25,000 per year. Award nominees are within the first six years of their independent academic research careers and nominations are solicited from the FMC Research and Development (R&D) organization.
"The awardees are from different science disciplines but are united in their pursuit of innovative approaches to address challenges in agriculture," said Dr. Kathleen Shelton, vice president and chief technology officer at FMC. "The FMC New Investigator Awards program creates exciting opportunities to exchange ideas and consider possible research collaborations with universities."
The FMC New Investigator Awards were launched in 2020 to recognize the research of early career professors and to build relationships between FMC and the academic community and institutions. Award winners from 2020 were Dr. Justin McMechan from the University of Nebraska and Dr. David Sarlah from the University of Illinois.
2021 FMC New Investigator Awardees:
Dr. Simon Zebelo, University of Maryland Eastern Shore (UMES), Agricultural Entomology  

With a background in plant and environmental ecology, agricultural entomology, and dry land farming, Dr. Zebelo is uniquely positioned to support the development of environmentally sustainable alternative management practices, both in Maryland and in global areas with severe climate implications. His research focuses on a broad-based multidisciplinary approach to develop and evaluate ecologically-based integrated pest management programs and to deliver practical programs to growers. 

Dr. Stacey M. Louie, University of Houston, Civil and Environmental Engineering

Dr. Louie's research is centered around the area of environmental nanotechnology, with specific interests in understanding the environmental fate and transport of a broad range of materials such as nanoparticles, polymers, and organic chemicals. Dr. Louie's group is working to determine how particle, surface, and natural organic matter interactions can change the transport and risk of chemical species within the environment. Her group has particular expertise to make advances in environmental assessment tools as well as sustainable technologies for agricultural and water treatment applications.

Dr. Christian D. Cruz, Purdue University, Plant Pathology

Dr. Cruz's background in plant pathology, agronomy, epidemiology, emerging plant diseases, modeling, and risk assessment has allowed him to tackle novel questions and positions him as a leader in the field. His trans-disciplinary approach to understanding both native and non-native plant diseases uses visual, digital weather and imagery data, and physiological information to describe disease epidemics. Dr. Cruz is working to develop automated tools that bring together these various data types to improve growers' crop disease surveillance and response options.

Dr. Song Lin, Cornell University, Electrochemistry

Operating at the forefront of synthetic electrochemistry, Dr. Lin exploits this technique to address unsolved problems in organic synthesis. His lab combines rational catalyst design with electrochemistry, targeting new catalytic methods that creatively employ electrochemistry to improve and innovate in the synthesis of organic molecules.