Our History
Key moments in FMC's history
A Brief Overview of Our History
FMC's Spirit of Invention was born in 1883 when founder John Bean created an innovative insecticide spray pump to combat scale, an infestation that was ravaging California's orchards and endangering the livelihood of growers.
1929

1941

1945

1946

1947

1948

1961

1973

2019
2020
Mark Douglas became president and chief executive officer of FMC in June 2020 and Pierre Brondeau became Executive Chairman.
2018
FMC became an Agricultural Sciences Company and began to separate its Lithium business.
2017
FMC acquires DuPont crop protection assets in an asset swap transaction for FMC's Health & Nutrition business.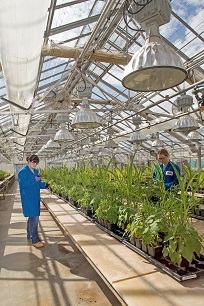 2015
FMC announces the closing of its acquisition of Cheminova A/S, a multinational crop protection company based in Denmark. The acquisition helped expand FMC's global scale in manufacturing, technology, regulatory and commercial infrastructure in Europe and parts of Asia.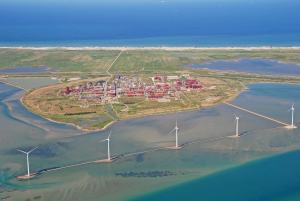 2014
FMC sold the Peroxygens and Alkali businesses, and several other commodity business units were shut down.
2011
To reinforce the Agriculture and Health & Nutrition businesses, FMC acquired select Bayer fungicides, a biological research lab, and additional product lines.
2010
Pierre Brondeau joins FMC as President and Chief Executive Officer and is elected Chairman in September 2010.
2001
FMC Technologies, Inc. begins trading on the New York Stock Exchange — Ticker Symbol: FTI — on June 14. FMC Corporation completes spin-off of FMC Technologies, Inc. Bill Walter is elected Chairman of FMC Corporation.
2000
FMC announces plans to restructure the company into two separate, publicly traded companies — a machinery business (FMC Technologies) and a chemicals business (FMC Corporation).
1999
FMC and Solutia enter phosphorus joint venture named Astaris LLC. FMC sells process additives business. FMC sells BioProducts business To Cambrex. FMC acquires Tg Soda Ash Inc. FMC acquires alginate business from Norsk Hydro. FMC and Asahi sign joint venture agreement.
1998
FMC forms a sulfentrazone agreement with DuPont that gives it exclusive use of sulfentrazone on U.S. soybeans, while FMC retains the rights in all other global markets. Carfentrazone-ethyl is registered in the U.S. and marketed as Aim. FMC introduces EnTec drug delivery technology.
1997
In the U.S., sulfentrazone soybean herbicide is registered and introduced as Authority Broadleaf. FMC introduces carfentrazone-ethyl herbicide in Europe as Affinity, Lexus Class and Platform for cereal crops. Two pharmaceutical binders are introduced: Super-Tab for direct-compression tableting, and Ceolus microcrystalline cellulose for smaller, easier-to-swallow tablets.
1996
Sales reach $5 billion. FMC introduces Authority herbicide in North America. Our Chinese joint venture opens new agricultural products plant in Suzhou. FMC introduces Reofos RDP flame retardant for use in producing engineering thermoplastics. Pharmaceutical business enters the China market with sales of Avicel microcrystalline cellulose, a binder.
1995
Sales reach $4.5 billion. FMC forms soda ash joint ventures with Nippon Sheet Glass and Sumitomo. Sulfentrazone soybean herbicide gains registrations in Brazil and Paraguay. FMC introduces many pharmaceutical products: Endurance and Endurance Plus tablet binders, Accelerate super-disintegrant, Avicel CE chewable excipient, and Celphere for controlled-release dosage forms.
1994
FMC develops new lithium resource in Argentina. The company forms agricultural products joint venture in China, and energy equipment joint ventures in Russia and Oman. A hydrogen peroxide plant is built in Delfzijl, Netherlands.
1993
FMC forms joint venture with P.T. Bina Guna Kimia for agricultural chemicals in Indonesia. FMC introduces AviSphere, pharmaceutical time-release applications.
1992
Sales reach $4 billion. EPA approves use of Rugby insecticide/nematicide on imported bananas and Fury pyrethroid insecticide on cotton. Talstar insecticide-nematicide is registered in Japan.
1991
President Bob Burt is elected chairman and CEO upon Bob Malott's retirement in October. FMC commits to voluntarily reducing environmental releases of 17 priority substances by 50 percent by 1995. The company opens a carrageenan plant in Cork, Ireland.
1990
FMC introduces Avicel formulations for low-fat and no-fat foods. The company updates the environmental policy. A hydrogen peroxide plant is opened in Prince George, British Columbia, to serve western Canada.
1988
International sales of agricultural chemicals top $200 million. The company gains registration for use of Capture insecticide-miticide on cotton in the U.S.
1987
The company introduces Pulp-Brite for increasing the brightness of paper pulp; Cynoff insecticide; and Dragnet termiticide.
1986
FMC introduces Command soybean herbicide.
1985
The company acquires Lithium Corp. of America, world's largest producer of lithium, used in batteries, pharmaceuticals, lubricants, high-strength plastics and high-purity silicon computer chips.
1978
FMC becomes the world's second largest producer of hydrogen peroxide.
1972
Corporate office moves to Chicago. FMC divests unprofitable businesses, including Fiber and Pump divisions.
1971
On Nov. 5, Robert Malott is elected president and CEO, effective Jan. 1, 1972. Jim Hait retires as chairman of the board, and is replaced by Benjamin Carter. Other retirees are Jack Pope, Paul Davies, and Honorary Chairman John Crummey, age 93 and with 70 years of service.
1968
Company operations are divided into four groups: Machinery, Chemical, Fiberand Film, and Ordnance. Jim Hait relinquishes his role as CEO to Jack Pope. FMC becomes a major supplier of synthetic glycerine, used in toothpaste, chewing gum, tobacco and cosmetics.
1966
Revenues exceed $1 billion for the first time. Paul Davies retires as president and Jim Hait becomes CEO. FMC acquires a 20 percent interest in Barcelona, Spain-based Foret, S.A. (basic inorganic chemicals, including peroxygen compounds, derivatives and silicates).
1962
Chemical businesses are re-aligned into three divisions: Inorganic, Organic and Niagara.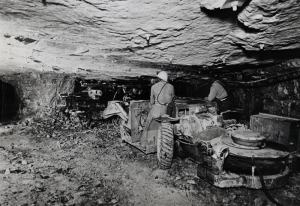 1961
Company name changes to FMC Corporation.
1958
FMC forms joint ventures in Japan and Brazil to manufacture hydrogen peroxide. Licenses are granted for the production of chemicals in Argentina, and petroleum equipment in Mexico and Japan. Plants are built in Cordoba, Argentina, to produce several machinery lines.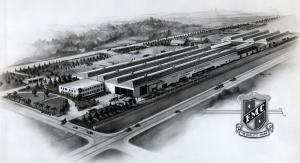 1948
The company changes its name to Food Machinery and Chemical Corporation after making the largest acquisition in the history of the company — Westvaco Chemical Corp. (chlorine and caustic soda used to produce organic insecticides and pesticides). Westvaco brings huge deposits of phosphorus (used in synthetic detergents) and trona (used to make glass and other products).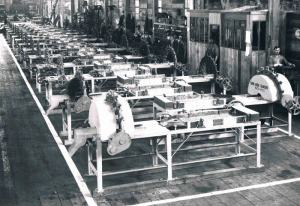 1943
FMC launches into the chemical business with the acquisition of Niagara Sprayer & Chemical Co. (insecticides and fungicides). On Nov. 20, the (Landing Vehicle, Tracked) LVT got its first combat test at Tarawa in the Gilbert Islands.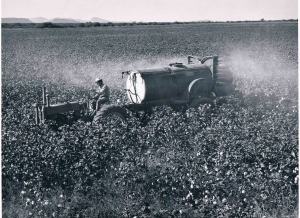 1928
Stock for the newly renamed John Bean Manufacturing Company is introduced on the San Francisco Exchange on Sept. 14. On Oct. 1, the acquisitions of Anderson-Barngrover Co. and Sprague-Sells (canning machinery) make the Bean Company the world's largest food machinery manufacturer. A contest is held for a new company name; the winning entry is Food Machinery Corporation.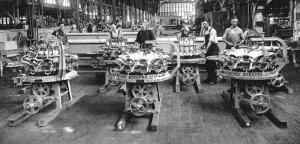 1904
On May 20, the Bean Spray Pump Company is incorporated.
1901
At the age of 82, John Bean creates the Magic Pump, a vertical pump that yields a higher pressure than any other pump on the market.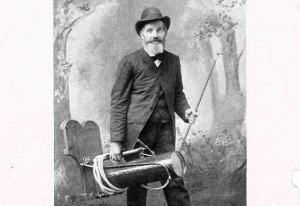 1883
Retired inventor John Bean set out to build a better insecticide spray pump.