FMC Biologicals
Agriculture biologicals are often used in combination with synthetic crop protection products as part of integrated management programs. Biologicals can be used to improve nutrient uptake, while providing insect control, disease protection and improving yield benefits with reduced residue and environmental profiles.
FMC offers differentiated biologically-based crop solutions
FMC is focused on delivering differentiated biological products with performance that stands out from the competition. Our biologicals portfolio is uniquely positioned to provide distinctive solutions either individually or through the integrated use with synthetics and crop nutrition. 
Award-Winning Performance
FMC was recognized at the 2020 Crop Science Forum and Awards in the Best New Biological Product (Biostimulant) for its Accudo® biostimulant sold in South Korea. The use of Accudo® biostimulant has demonstrated more than 15 percent yield increase, improved crop appearance, vigor, strong early establishment and can enhance crop development under some stress conditions.

In 2019, FMC was recognized with an Agrow Award in the Best New Biological Product (Biopesticide) for its Presence® and Quartzo® bionematicides sold in Brazil. These FMC biological products can be used in a range of crops to help fight off attacks from nematodes and protect yields from nematode lesions.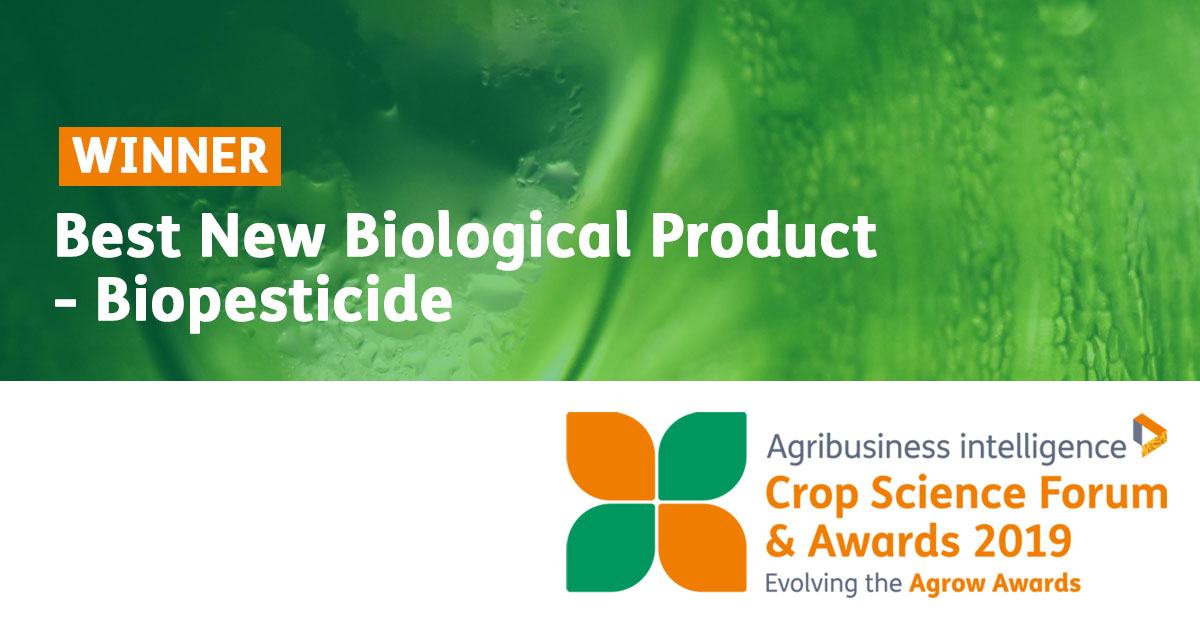 Expanding Biologicals Through In-House R&D, Partnerships and M&A 
FMC Corporation's world-class biologicals business was initially built through two strategic transactions in 2013.  These include the acquisition of the Center for Agricultural and Environmental Biosolutions (CAEB) assets and the signing of a global strategic alliance with Chr. Hansen, a global bioscience company. Together these initiatives helped create a robust biological platform that complements the traditional strengths of a synthetic crop protection portfolio.  
Since that time FMC has invested significantly in the continued development of novel, differentiated biological products through its partnership with Chr. Hansen as well as through investment in FMC's European Innovation Center (EIC) located in Denmark. Additionally, FMC entered into a strategic collaboration with Novozymes to research, co-develop and commercialize biological enzyme-based crop protections. Learn more here.
FMC also has commercial distribution partnerships in place with Cytozyme and Marrone Bio in Latin America, and Certis in North America for products that are complementary to our portfolio.
FMC Biologicals and Precision Agriculture 
FMC's biologicals are targeted to deliver superior performance in a more sustainable way.  When used together with FMC's precision agriculture platforms, they enhance plant health throughout the growing season, as well as yield quality and quantity at harvest. FMC recently launched a new, novel precision agriculture platform named Arc™ farm intelligence to monitor and predict pest pressures up to a week in advance with 90 percent confidence. These capabilities will also allow for optimal use of FMC's growing biologicals and synthetic product offerings. Learn more here.

QUARTZO® bionematicide
Quartzo® bionematicide (Bacillus licheniformis and Bacillus subtilis) was commercially launched in 2018 for Brazil and will soon be launched in the U.S. and Canada under the trade name Avodigen®.  Quartzo®, an in-furrow application, has already established the leading position in the management of nematodes in sugarcane crops.

Presence® Bionematicide 
Presence® bionematicide (Bacillus licheniformis and Bacillus subtilis) is a seed treatment used primarily for soybean applications and was commercially launched in Brazil in 2018. It offers an alternative mode of action to combat difficult-to-control pests like nematodes.

Accudo® biostimulant
Accudo® biostimulant was launched and registered in South Korea as a bio-fertilizer for use in Fruits and Vegetable (F&V) crops for the 2019 crop season. With a superior yield increase compared to competitive products, it enhances root development and has anti-fungal tolerance. Its pre-harvest interval (PHI) is zero and there are no MRL or residue concerns for the use of Accudo® on a variety of fruits and vegetables. Accudo® biostimulant was recognized as Best New Biological Product (Biostimulant) at the 2020 Crop Science Forum and Awards.